Viagra is the most commonly prescribed drug for erectile dysfunction. It's designed to give men an erection so that they can enjoy a healthier sex life with their partner. 
However, Viagra also comes surrounded by a few controversies and isn't for everyone. Moreover,  because it's a medication, it's natural for some men to feel a degree of apprehension before taking it. If you've been recently diagnosed with erectile dysfunction and have been prescribed Viagra, you've probably got a few questions on your mind before you decide to go ahead and take it. Such as, what does Viagra do you to exactly? How long does it take for Viagra to work? How long does a Viagra pill last?
And is it even safe? 
It's good to get the science behind something before you take it. In this article, we take a comprehensive look at what viagra does so that you can decide for yourself if it's the best course of action for you. 
How Does Viagra Work?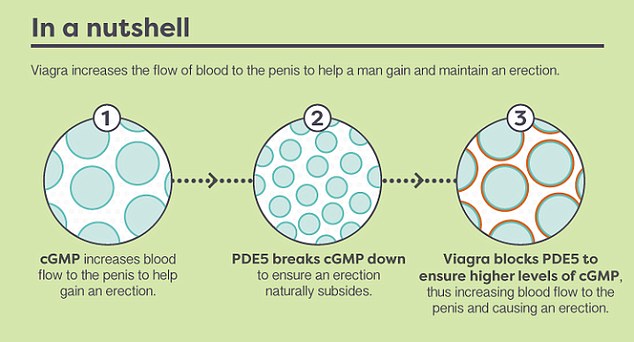 Viagra arrived on the pharmaceutical market back in 1998 as the brand name for sildenafil citrate. It's since helped millions of men with their sex lives. Put simply, it's a little blue, diamond-shaped pill that helps men get and sustain an erection. But how does Viagra work exactly? What does Viagra do to you and your body? 
If you've been diagnosed or treated for erectile dysfunction, it's highly likely that you're also been prescribed Viagra, a medicine that treats ED by increasing the blood flow to the penis. And reliable blood flow is key to an erection. 
Some men, of course, have no need for Viagra. They're able to get – and maintain – an erection without medication. This is what happens: cGMP causes the walls of your blood vessels to relax in the vascular system. By dilating the blood vessels, it lets blood flow more easily. Via this relaxation process, an erection is possible.
For men who struggle to achieve an erection, however, there's a class of enzymes known as PDE5 that are breaking down cGMP, and thus hindering blood flow in the penis. A man might get an erection, but it probably isn't hard enough for penetrative sex. 
Viagra works by binding itself to PDE5 and thus stops it from breaking down cGMP. When PDE5 isn't able to do this there is more cGMP available in the penis. This means more blood flow, which means a bigger, harder erection. In short, what Viagra does is it lets the man's blood vessels expand and relax.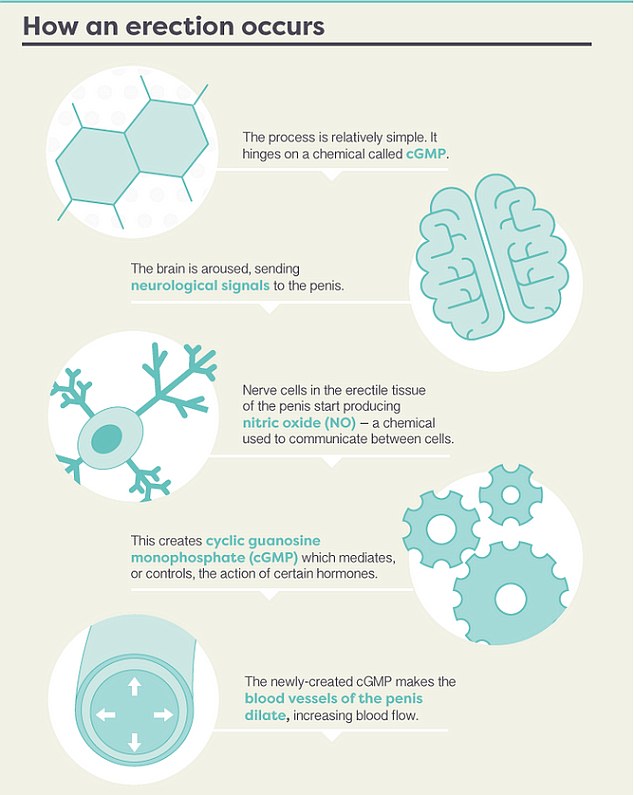 It's important to note, though, that Viagra by itself won't get you an erection. You still need to be sexually aroused first. 
Also, because it increases blood flow, Viagra is used to treat pulmonary hypertension, too.  
How Long Does It Take For Viagra To Work? 
Viagra works for 2/3 men. That's pretty good, but it also means that it won't work for some men. For those it works for, it doesn't take too long to get into top gear, and could start working within 30 minutes.
However, these are only average numbers, and the exact length of time it take Viagra to start working will vary according to the individual. If you take it just 30 minutes before having sex, you might find that it doesn't start working in time. Instead, the recommendation is that guys take it 4 hours before they plan to have sex. 
There is, however, no real way to know when Viagra will start working for the individual. All you can do is try it for yourself once you've been prescribed it. It shouldn't take any longer than 60 minutes, but if it does, you might want to take a closer look at your diet (see the next section). 
Is There Any Way To Make Viagra Work Faster? 
There isn't any way to make Viagra work faster, but there are things you can do to avoid slowing its effects down. For example, fatty or heavy foods – such as burgers and bacon – should be avoided because these affect the metabolic breakdown of Viagra. 
The best time to take Viagra is on an empty stomach, as this will allow for faster absorption into your bloodstream. There are also certain "trigger foods" that you should take pains to avoid, such as grapefruit juice. If you were to drink grapefruit juice just before or just after taking Viagra, it can slow down its absorption into your bloodstream. 
It's the same with alcohol. While it's perfectly okay to enjoy a drink now and then, alcohol is a prime reason why lots of men struggle to get or maintain an erection. Viagra won't be totally useless if you have just one drink, but if you drink too much, you can damage your chances of getting an erection. Viagra is a bit of a "wonder drug" but it's still powerless in the face of alcohol. 
Men should aim to drink less than 2 units when they're planning to take Viagra. 
Smoking can also slow down Viagra's effectiveness. Smoking wrecks your cardiorespiratory fitness, which in turn leaves you breathless and unable to get and maintain an erection. 
Exercise, meanwhile, in general is good for your health and can help to boost Viagra's effectiveness. 
How Long Does a Viagra Pill Last? 
Many men wonder how long does a Viagra pill last, but its effects really depend on the individual in question. 
For example, there are some men who say that Viagra lasts for around 5 hours for them. On the other hand, some men say that its effects start to wear off after just 2 hours. Generally, most men might find that Viagra lasts for 2-3 hours. 
Age can play a factor in how long a Viagra pill lasts for. Older men aged 65+ should find that Viagra lasts longer, simply because of their slower metabolism. When your metabolism is slower, it takes longer for your body to get rid of things. That doesn't mean to say that younger men should find ways to slow down their metabolism. That's not a good idea because – generally speaking – you don't want a slow metabolism. Slow metabolism's lead to weight gain, among other things. 
It's also worth pointing out that Viagra won't help you last longer if you already have a low sex drive, or if you tend to come too early. It's a pill designed for erectile dysfunction, and as such it won't helps men last longer after an orgasm. This is because when you orgasm, you enter what is known as a refractory period, which Viagra wasn't intended for. If you are suffering from premature ejaculation, you will need a separate treatment. 
What Dosage Should You Take? 
Viagra pills for ED vary in strength from 25mg to 100mg. 
Typically, most males are prescribed dosages of 50mg, and typically you shouldn't take more than one per day. You can, however, increase your dosage to 100mg if it isn't working as effectively as you'd like, but this is something you'll need to talk to your doctor about.
You can also decrease your dosage to 25mg if you find that it's working too well. 
Take your pills by swallowing them in a glass of water of juice. As mentioned earlier, avoid grapefruit juice, and take on on empty stomach if you want faster results. 
Is Viagra Safe? 
Viagra is safe to use if you've already been prescribed it by your doctor and you stick to the dosage. In moderation, it should be fine. However, mild side effects do include headaches, indigestion and nasal congestion, while men with a serious heart or liver problem or low blood pressure should avoid it altogether. It should also be avoided if you're taking nitrates to treat chest pain. This is because Viagra can – rarely – cause heart attack or ventricular arrhythmias. 
Viagra can also – again rarely – cause priapism, a painful erection that won't go down, and which must be treated by a physician. 
If you take more than your dosage amount over 24 hours, you risk overdose. Symptoms include blurred vision, vomiting and even blindness.
Conclusion 
Viagra can work wonders for your sex life if you've already been diagnosed with erectile dysfunction. However, it's not always the be-all and end-all, and you should consider other possible causes of your ED, too, such as diabetes. If you've been prescribed the little blue pill, though, just make sure to stick to your dosage, always take it at least 4 hours before you plan to have sex – and enjoy a great sex life with your partner from now on.